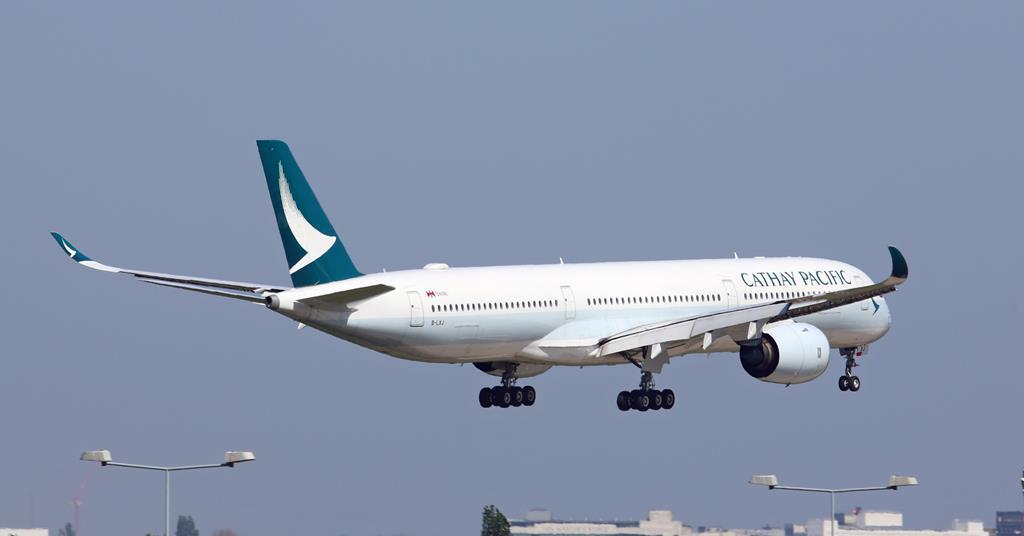 Cathay Pacific reported a third consecutive month of traffic declines as it began to feel the impact of tightened crew quarantine measures imposed by the Hong Kong government.
The carrier carried just over 18,500 passengers in March — a new low this year — which averages to just under 600 passengers a day. Comparatively, the carrier flew about 755 passengers a day in February.
It also represents a 94% plunge year on year in passengers carried.
Cathay saw its passenger numbers gradually rise toward the end of 2020, as it reopened parts of its network. Since the start of the year, however, passenger numbers have fallen again, following a resurgence in coronavirus cases, as well as the discovery of a more infectious strain of the virus.
On the capacity front, Cathay says it operated a "skeleton schedule" to just 18 points in its network in March, representing a 47% month-on-month capacity decline. Compared to March 2020, ASKs plummeted 90%.
In February, the Hong Kong government-imposed measures – involving a 14-day hotel quarantine and a seven-day medical surveillance requirement – for returning aircrew. In the wake of the new measures, Cathay has warned of an increased monthly cash burn. It also flagged possible cuts to passenger and cargo capacity.
Cathay's cargo operations have also felt the effects of stricter quarantine measures: the carrier reported a 39.4% reduction in cargo capacity year on year.
Still, the carrier welcomed the Hong Kong government's latest announcement to lift mandatory quarantine for fully-vaccinated Hong Kong-based aircrew on freighters and cargo-only passenger flights, which takes effect on 16 April.
The move, notes Cathay, will have a "positive impact" on the cargo business, while also reducing its monthly cash burn.
Cathay, which plunged to a record operating loss of HK$18.1 billion ($2.33 billion) in 2020, adds that it is "eagerly anticipating" the rollout of quarantine-free travel arrangements in the near term.
"We welcome and support the government's plan to use 'vaccine bubbles' as the basis for introducing further relaxation measures, including those relating to cross-boundary travel. This provides a framework under which fully vaccinated people could benefit from shorter or no quarantine requirements when traveling, such as via an Air Travel Bubble, which we are eagerly anticipating," says Cathay group chief customer and commercial officer Ronald Lam.
The Hong Kong government has recently disclosed that it is in discussions with Singapore on relaunching travel bubble arrangements between both cities. An attempt to do so last year was shelved indefinitely following a spike in coronavirus cases in Hong Kong.