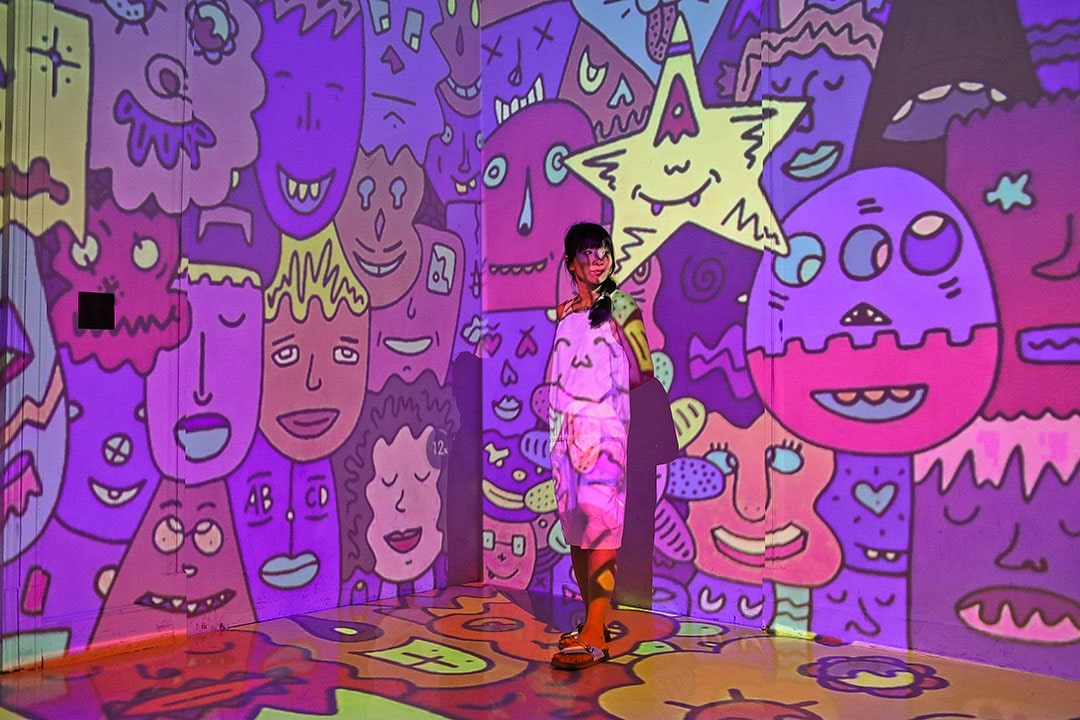 After checking in, you can roam freely. I liked doing a quick walk through the rooms to get an overview and then going back to spend time shooting each room.
Most people take 20-30 minutes, but there isn't a time limit, and you are welcome to stay as long as you want. We spent around 45 minutes, but we were shooting photos and videos in multiple formats.
There are five distinct rooms, and there aren't any official names to them, but we named them to help you navigate the museum.
The Floral Lobby: This doesn't count as an official room, but you can take photos with the wall covered in flowers.
The Gold Room: This is a gold room with fun textured walls and lights covering the ceiling.
The Projection Room: Next up is a room with projected art on the wall. This room includes a beautiful full moon you can shoot in front of as well as a couple of other pieces.
The Lightbulb Room: This room was inspired by Yayoi Kusama's infinity rooms. There are floating lightbulbs that show electric currents when you touch them, and mirrors cover the walls.
The Orb Room: The next room is filled with color-changing orbs. There's a seat in the corner for photo opps as well as one with drapes. We thought the drapes were a tad creepy.
The Faces Room: Pretty Done's projected freestyle pop art fills an entire room with bright colors. If you're wearing lighter colors like me, you become the canvas for his art.