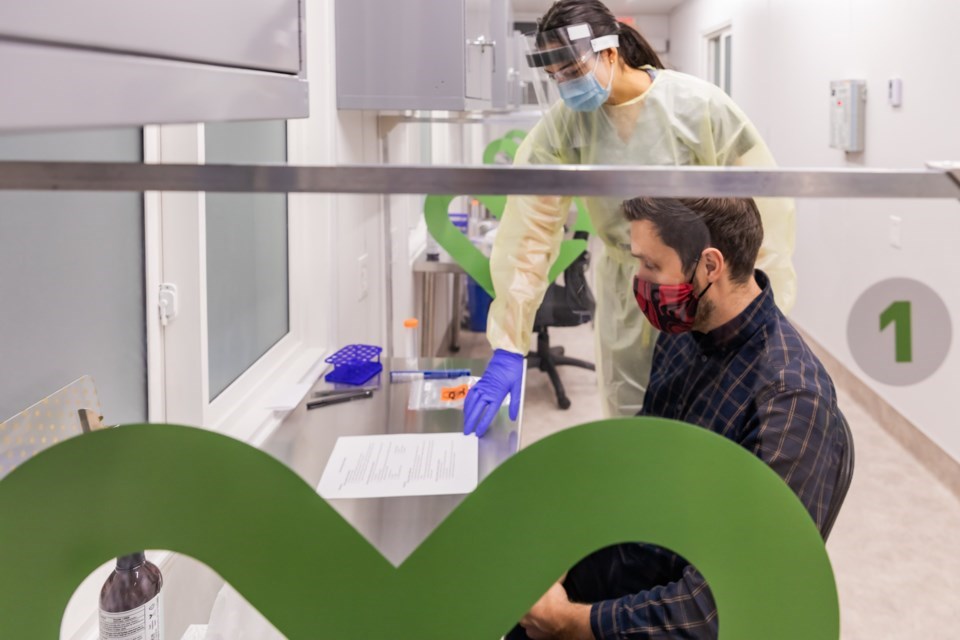 The results of a recently completed study at Vancouver International Airport suggest COVID-19 rapid testing can contribute to safer and healthier air travel.
Going into the study, it was believed the prevalence of asymptomatic travelers would be around one in 100, Dr. Don Sin, one of the study's principal investigators, told the Richmond News. Instead, results found the prevalence rate was less than one percent.
A total of 592 passengers, departing on domestic WestJet flights, opted to take a COVID-19 rapid antigen test – all of which came back negative. Results of the rapid test were verified with a PCR test, also done at the airport.
"We're 100-per-cent confident that the negatives were true negatives. So, in the end, we think that the overall prevalence of COVID-19 in asymptomatic passengers is probably one in 1,000," said Sin, who is also a respirologist with Providence Health and UBC medicine professor.
However, while the study found transmissible infection among airline passengers is fairly rare, it's still important to catch that one-in-1,000, said Sin, pointing out that people could still travel from other provinces and infect the community.
"So I think we need some sort of strategy, even within Canada… To my knowledge, there's no testing for domestic flights."
The YVR and WestJet study began in late November 2020, running until February of this year. The program was voluntary and open to any B.C. residents between 19 and 80 years old, who had not tested positive for COVID-19 in the last 90 days. Testing was only available on the day of travel and took about 15 to 20 minutes, leading to minimal disruptions. Participant feedback was "resoundingly positive," according to researchers.
If anyone tested positive, they would have been denied boarding.
"From an operational perspective, this can be done at a busy airport," Sin said. "These (rapid) tests are relatively inexpensive to deploy…(at) probably less than $10 per test. PCRs are very expensive, well over $100 (per test)."
Rapid testing could also be deployed for international flights, said Sin, as a complement to Canada's current travel rules that require a negative COVID-19 test, such as a PCR test, within 72 hours of boarding. Passengers also need to take a test after arriving in Canada.
"Some individuals can catch COVID within that 72-hour period (before boarding), and the current screening strategy would not catch those individuals. So I think the beauty of the rapid antigen test is that it can be deployed right at the time of departure."
While vaccines are key to suppressing the pandemic, said Sin, rapid tests could still play a role even after 60 to 70 percent of the population is vaccinated.
"I think we'll still have some residual COVID in the community… With the rise of the variants, which may be somewhat resistant to vaccination, I think we will still need some sort of testing for high-risk industries."
Tamara Vrooman, president, and CEO of Vancouver Airport Authority, said in a statement that the study's data will help travel reopen safely and prove useful across other industries.
YVR and WestJet partnered with UBC and Providence Healthcare to complete the study.